KING'S ACADEMY OAKWOOD
Welcome to King's Academy Oakwood (KAO) where our core belief is that every single student deserves an outstanding education that not only provides the academic qualifications essential for long-term success but also gives them the skills, experience, opportunities and networks to become global citizens with the very best life chances.
In September 2019, KAO opened its doors to children in reception and Year 1/2. In the academic year 2021-2022, we have grown to 5 year groups: Year R, 1, 2, 3 and 4.
We have eleven exceptional and highly experienced teachers, six of whom work at KAO and five at King's Academy Binfield (KAB). All the children in both primary settings (KAO and KAB) will also benefit from regular specialist teaching in key areas of the curriculum, led by the secondary teachers. This will include Spanish/French, PE, music, dance/drama, food tech, art and computing.
With a focus on developing key learning attributes and dispositions and of course our DARE values of determination, aspiration, respect and enthusiasm, King's Academy Oakwood is the perfect start to your child's education.
In our primary phases, phonics is taught through the Read, Write, Inc Scheme.
Address: King's Academy Oakwood, Chiltern View, Binfield, Bracknell, RG42 4FY
Tel: 01344 586399
Email: admin.oakwood@kingsacademies.uk
King's Academy Oakwood Open Evening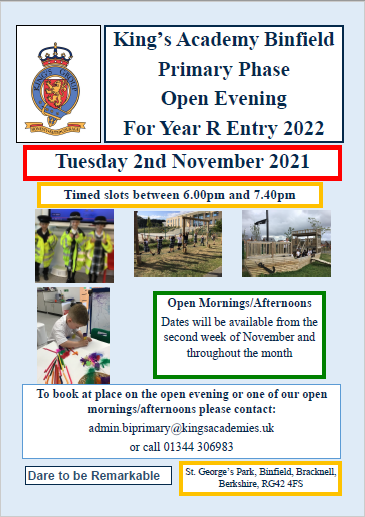 King's Academy Oakwood Virtual Tour
Please see below our virtual tour of King's Academy Oakwood and talks by Sarah Howells, Executive Principal and Jacqueline Tate, Head of Primary. Also below is a video from our Early Years Lead, Corinne Lewis and our Key Stage 1 Lead, Helen Kenney. Please also see a presentation below regarding Entry to Reception in September 2021.
If you have any questions regarding entry for your child in September 2022, please email transition.kao@kingsacademies.uk
For further information regarding the academy day, our curriculum, uniform requirements and more, please use the tabs at the top of the page.